Who We Are
Ankuro Community Development Trust was established to support sustainable community development projects in Nepal and New Zealand. These projects aim to support local people to achieve improvements in their health and wellbeing. Ankuro focus areas include ensuring communities gain access to safe water and food, education and recreational pursuits.
Having lived and worked in Nepal in 2006, Ankuro founders Isaac and Penny Wilson were keen to continue to support the people and communities that they met while they were there. Our 2014 fundraising campaign is in partnership with the Kevin Rohan Memorial Eco-Foundation (KRMEF).
We were fortunate to visit KRMEF in September 2011, and were inspired by their innovative work. We hope our projects there will bring about a more positive and sustainable future for this community.
In time we intend to establish other community development projects both in Nepal, and here in our own back yard.
What We Believe
Ankuro comes from the Nepali word 'Ankur' meaning a seedling, bud, or fresh shoot of a plant.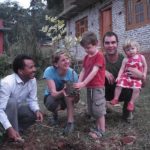 The concept of planting a seed is what lies at the heart of this charity. By providing resources and impetus for new community projects Ankuro then seeks to nurture these projects to ensure they take root permanently within the community.
Ankuro aims to work alongside the local community to develop strategies that are appropriate for the people that live, work, and play in that community. We don't claim to be 'experts;' but aim to facilitate the process of change. We provide both human resource and financial support for the initial 'planting' phase of the project. These projects are then sustained by the local community once the initial facilitation phase provided by Ankuro is complete.